Visitors to Boston have no lack of fun things to do and famous places to visit. Experience history coming to life on the Freedom Trail, see the Boston skyline from the Longfellow Bridge and watch the Red Sox play at Fenway Park, to name a few.
But in the middle of all those famous sites are a few hidden treasures you may not yet be familiar with. Let's take a look at 13 of those hidden gems in Boston.
A tour we think you'll love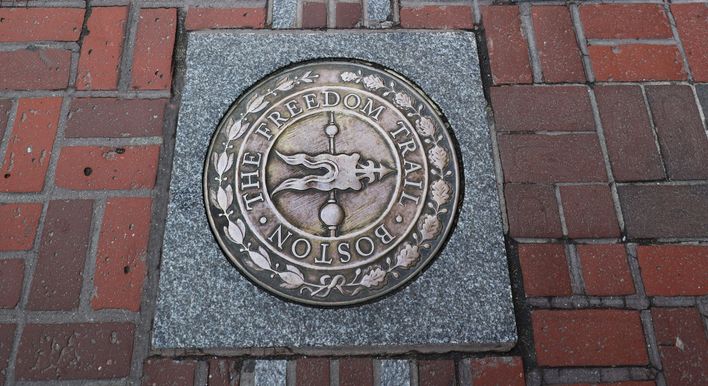 Freedom Trail Tours
From TBD
View tour
1) Enter Through The Secret Door
During the prohibition era, drinking establishments were hidden in basements and backrooms behind a secret door. To gain entry into the illegal barroom, patrons needed to give a password at the door.
While alcohol is legal these days and no longer needs to be hidden, speakeasies have made a comeback in Boston. Many of these hidden treasures will take advance reservations. If so, get online and reserve your place as soon as possible. Their reservations books fill quickly.
2) Brattle Book Shop
Visit a historic bookstore that is an American treasure. The Brattle Bookshop is America's oldest and largest used book store. The over 250,000 treasures for sale here include used books, maps, postcards, prints, and other intriguing hidden gems.
Be sure to check out the third floor with a collection of rare and antique books.
3) Museum Of Bad Art
The motto here is "art too bad to be ignored!"
The Museum of Bad Art (MOBA) was founded in 1994 by antique dealer Scott Wilson. The idea came to him when he foraged a bad painting from the trash bin. He started to collect original art pieces where the artist had the best intentions, but something went wrong, creating a bit of bad art.
4) The Great Molasses Flood Of 1919
On January 15, 1919, a tank containing 2.3 million gallons of molasses burst, sending a wave of molasses two stories high down Commercial Street, and crushing buildings in its path. Boston harbor was brown from the molasses until summer.
The tragedy known as the Great Boston Molasses Flood was responsible for the death of 21 people.
The tank was located at 529 Commercial Street, and a small plaque has been posted nearby in remembrance. Look for the small green plaque at the entrance to Puopolo Park, with white lettering titled "Boston Molasses Flood."
5) Fenway Victory Gardens
During World War II, Victory Gardens were planted in backyards and community plots to grow fruits and vegetables and make up for a shortage of food.
Only the Fenway Victory Garden, across from Fenway Park, still exists today.
The Fenway Victory Garden is 7.5 acres with over 500 individual garden plots. The garden is tended to by a diverse community of neighbors and community organizations.
In addition to flowers, fruits, and vegetables, there are unique plots that include:
The Teaching Garden
Bee Apiary and Pollinator Garden
Medicinal Herb Garden
6) Spot Secret Street Art
The Underground at Ink Block is one of the hidden gems in Boston that you might miss if you don't know where to look. It's under the freeway overpass at 90 Traveler Street, between
Boston's South End and South Boston neighborhoods.
This 8-acre park has more than 150,000 square feet of murals, painted by artists from Boston, New York, Los Angeles, and Puerto Rico.
7) Tread Carefully At Old Granary Burying Ground
The Old Granary Burying Ground is the final resting place for notable Boston citizens like Samuel Adams, John Hancock, and Paul Revere.
But as you tour the Old Granary Burying Ground, you will want to tread lightly.
In January 2009, a tourist was walking in an area near Paul Revere's tombstone. The ground gave way and exposed an unknown crypt. She was not hurt and never came into contact with human remains.
She fell into a hole waist deep and exposed the staircase leading to the crypt. The crypt was not listed in historical records, but it is believed to contain Jonathan Armitage.
8) Find The Boston Bricks
Take a few steps off Boston's Freedom Trail to search for the Boston Bricks, one of the more amusing hidden treasures of downtown Boston.
On Winthrop Lane, between Otis and Arch, there are approximately 100 bronze reliefs the size of a brick with pictures representing Boston's past and present. There are about 100 of these hidden treasures.
9) Titanic Historical Society Museum
If you have the time to venture outside of Boston, drive to nearby Springfield, MA, to visit the Titanic Historical Society Museum.
A collection of artifacts are on display, many donated by Titanic survivors. Some hidden treasures on exhibit here include:
Mrs. John Jacob Astor's lifejacket
A chair from the first-class dining saloon
Third class dining menu
Set of first-class china
10) Tiffany Glass Windows Near The Charles River
The Arlington Street Church is home to some extraordinary hidden gems in Boston's bustling Back Bay neighborhood.
Boston's Back Bay occupies land that has been reclaimed from the Charles River tidal basin. This church is the first public building built in the Back Bay.
Tiffany Studios created the 16 stained-glass panels you see in the church windows.
A visitors center here is open May through October.
11) Ride The Swans At Public Garden
Since 1877 the Swan Boats have graced the lagoon at Boston Public Garden. Take a 15-minute tour around the lagoon on these boats that are pedal-driven by the captain.
Purchase tickets at the dock. Reservations are not necessary.
12) See The First Italian Cafe
Visit one of the places that serve food! In Boston's North End neighborhood on Hanover Street, the Caffe Vittoria is Boston's first Italian cafe.
There are four levels in the cafe, including three liquor bars and a cigar room in the basement. There is also a display of vintage espresso machines and coffee makers.
13) Isabella Stewart Gardner Museum
In 1903 Isabella Stewart Gardner opened a museum in Boston to share her private art collection with the public.
Her collection includes more than 7500 paintings, textiles, sculptures, silver, and ceramics. Collected artists include Rembrandt, Botticelli, Vermeer, and Manet among others.
The museum was cast into the spotlight on March 18, 1990, when 13 works of art were stolen, including pieces by Degas, Vermeer, and Rembrandt. To date, the stolen items have not been returned.
Tour Everything And More
These are just a few of the fascinating sites that await you. We still have a few delightful secrets up our sleeves!
Let us take you on a tour of Boston's hidden treasures and secret places. We'll lead you on an adventure around the city, pointing out the sights and telling their stories. We'll ensure you don't miss the history, stories, and fun events that make Boston so fascinating.
Call us, or go online today. We can't wait to show you our city!
---